Me and you…
Blending positionalities in urban margins
"There is a question that I always ask myself: why should people be interested in our district? Why are people like you interested in Sant'Elia? Why are you doing this? What drives you?" (Rosa)
One of the first sessions of our field work in Sant'Elia took place on a Sunday in 2013. We walked on one of the streets of Borgo Vecchio during the weekly outdoor market. Although the five or six of us tried to dissimulate our intents by purchasing some vegetables, we were clearly unusual customers and soon became the centre of some attention. This may have depended on the way we looked around, the fact that we did not carry bags, our outfit or accent (most of us are not Sardinian), or all these factors together. Be as it may, one of the stall owners asked us loudly so as to make sure we and the rest of people could hear him if we were there because we wanted to shoot a film, thus implying we clearly looked outsiders. Nowadays, we hardly walk by Borgo without meeting a familiar face or being greeted by someone. Over these last two years, our relationship with the residents has become more solid and interdependent. This resulted in a project that is still underway and increasingly open. Findings are by now more predictable and this is due to a long standing and mutual interaction with the residents who repeatedly asked for our participation in life in Sant'Elia. As the relevant ethnographic literature explains, this experience of progressive encounter becomes essential for the correct understanding of our work: "fieldwork is a discursive process in which the research encounter is structured by the researcher and the researched" (England, in Crang, 2003, p. 494). Spending time together was extremely important not only to define how to enter and stay in Sant'Elia, but also to establish our methodology.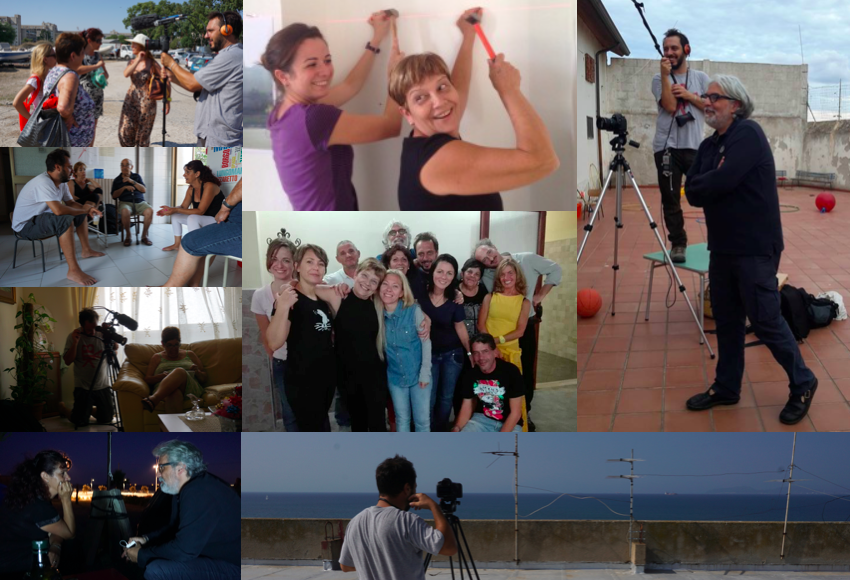 As we started integrating into the district's life, our place in it changed. Moreover, our ability to develop new instruments improved thanks to the work with our informants. These tools are therefore more adequate to our investigation and better meet our female informants' expectations, needs and problems. The first step of the project was more abstract and distant in terms of relations, mainly because we used a questionnaire. This approach raised the typical problems of a sociological investigation based on quantitative data (e.g. selection and quantification of the sample, administration to female informants and data analysis). Some residents were also sceptical as they felt they were "Guinea pigs" that had to be tested:
"We are used to people coming here. It is not just you. They come here because they want to understand and be guided, they want to photograph the district […] Once they take pictures, they have what they want, "Thank you, bye", and disappear […] This thing has been going on for years, so now I'm fed up because I am not a sample to analyze, I'm not an extraterrestrial creature, I feel I'm part of the city and being treated like this annoys me!" (Rita).
From this point view, our contact with the female members of Sant'Elia Viva was a real turning point. They felt that their collaboration with researchers from the University gave them the opportunity to reflect on their district and made their bond to it stronger. Most importantly, this has further confirmed and legitimated their activities and their role inside and outside the district. The most obvious example has been the photographic exhibition organized in collaboration with the Municipality of Cagliari, which attracted many people from other districts of Cagliari. Deconstructing the stigma that was imposed on the dwellers in Sant'Elia has probably been one of the most important results for the participants. This stigma was integrated with (if not replaced by) other images and new perspectives from which to see the district. All participants agreed that they gain a lot from their participation in the workshops, as well as any other activity that can help to open up to the outside. They also agreed on shared expectations regarding the fact:
"What we talked about is communicated not inside the district but outside it, so that people can learn about what happens here" (Rita).
As researchers, this open-minded attitude allowed us to enter Sant'Elia little by little, being welcomed and having the chance to discuss using a different perspective and unusual strategies (at least for us). This helped us to describe its space and what happens in it, produce counter-narratives about the places, identify values and symbolic and identitarian meanings, to understand the several definitions and experiences regarding marginality. In such situations, we found mixed feelings of abandonment, belonging and redemption, along with other issues that we were unable to discuss here, e.g. hope, disappointment, friendship, injustice, fighting, conflict, etc.
* This text resumes the considerations of the following publications: 1) Aru S., Memoli M., Puttilli M., (2017), "The margins "in-between". A case of multimodal ethnography", City. vol. 21, issues 3, (in press). 2) Memoli M., Cattedra R. (2014), "Un contre-lieu d'urbanité marginale. L'exemple du quartier de Sant'Elia (Cagliari)", in Semmoud N., et alii, Marges urbaines et néolibéralisme en Méditerranée, Tours, PUFR, pp. 125-144.